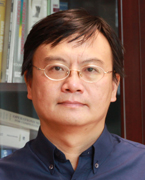 Professor LAM, Wai
Office : Room 709B, William M.W. Mong Eng. Bld.
Tel : (852) 3943-8306
Email :

Biography
Wai Lam received a Ph.D. in Computer Science from the University of Waterloo. He obtained his BSc. and M.Phil. degrees from The Chinese University of Hong Kong. After completing his Ph.D. degree, he conducted research at Indiana University Purdue University Indianapolis (IUPUI) and the University of Iowa. He joined The Chinese University of Hong Kong, where he is currently a professor.
His research interests include intelligent information retrieval, text mining, digital library, machine learning, and knowledge-based systems. He has published articles in IEEE Transactions on Pattern Analysis and Machine Intelligence, IEEE Transactions on Knowledge and Data Engineering, ACM Transactions on Information Systems, etc.
His research projects have been funded by the Hong Kong SAR Government General Research Fund (GRF) and DARPA (USA). He also managed industrial projects funded by Innovation and Technology Fund (industrial grant) and IT companies.
Research Interests
Text Mining
Natural Language Processing
Intelligent Information Retrieval
Web Mining
Publications
Datasets
Codes
Students
Xin SHEN (PhD, 2017~)
Kwun Ping LAI (PhD, 2018~)
Deng CAI (PhD, 2018~)
Kai CONG (PhD, 2018~)
Wenxuan ZHANG (PhD, 2018~)
Haoran YANG (PhD, 2019~)
Yifei YUAN (PhD, 2019~)
Yang Deng (PhD, 2019~)
Weiwen XU (PhD, 2020~)
Chang GAO (PhD, 2020~)
Hongyuan LU (PhD, 2021~)
Chaojun WANG (PhD, 2021~)
Alumni
Zihao FU (PhD, 2017, University of Cambridge)
Xin LI (PhD, 2016, Alibaba DAMO Academy)
Qian YU (PhD, 2016, JD.com, Inc.)
Xinshi LIN (PhD, 2015)
Bei SHI (PhD, 2014, AI Lab, Tencent Inc.)
Piji LI (PhD, 2014, AI Lab, Tencent Inc.)
Yi LIAO (PhD, 2013, Noah's Ark Lab Huawei)
Yinqing XU (Qube Research&ampTechnologist)
Mohammad Shoaib JAMEEL (University of Kent)
Lidong BING (AI Lab, Tencent Inc.)
Tak Lam WONG (The Hong Kong Institute of Education)
Ki Cecia CHAN (HKUST)
Bo CHEN (Ant Financial Services Group)
Xiaofeng YU (HP Labs China)
Ruizhang HUANG (Guizhou University)
Yiu Kei WU
On Yip Andy CHUNG (Azeus Systems Limited)
Ka Kan LO
Jiani XIONG
Tik Shun WONG
Pik Shan CHEUNG
Chi Kin KEUNG
Yiqiu HAN